Spring 2020 New Releases!
Spring has sprung, and the Chop & Hue team is thrilled to share a few of our latest Merrell projects that have been recently released this season!
What says "Woman Up" more than a badass looking shoe and smorgasbord of bright backgrounds and intense light sweeps? Maybe a catchy upbeat custom track or a killer color grade? We're not sure, but we combined all of these elements into our latest bite-sized edit for Merrell's Siren Edge 3. We created a style board for our client using bright, vivid colors, and interesting angles. We then executed this in even more extreme detail on set. Check out the piece below to brighten up your day!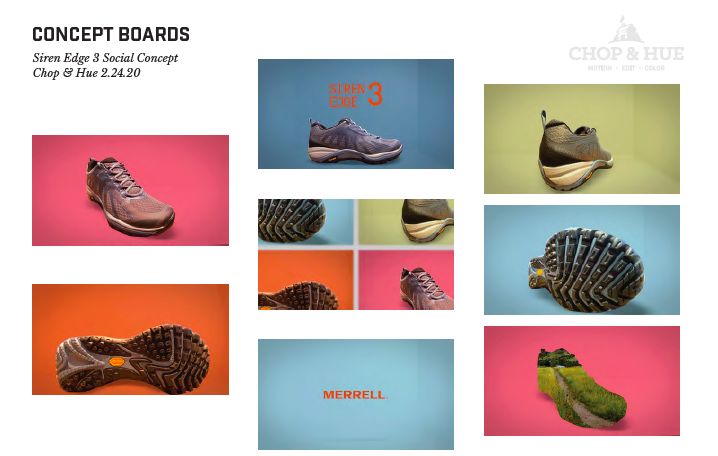 Creating beauty out of chaos is something that Noelle Phares excels at. Chop & Hue visited Noelle at her Denver-based studio to discuss her process, and to showcase her artistic style of nature-inspired textures and imagery, combined with precise geometric shapes and structure. Noelle and Merrell teamed up to create a unique, performance-driven piece of apparel, and the Women's Ultralite Parka: She Explores was born.
Easy On. Easy-Off. When tasked with finding a simple, no-frills method to show that the Chameleon 8 from Merrell is easy to put on and easy to take off, the team at Chop & Hue had no lack of good ideas. Our brainstorming sessions led us to develop multiple concepts to share with our Merrell clients, landing us at the final product of a simple, boomerang style video emphasizing the easy-on easy-off feature using the idea of a light switch turning on and off. Focusing on simplicity for a simple read, we pushed the color on this piece to highlight the night/light moments and punched it up with some well-placed sound design.